HOT THIS MONTH
25.04.2019
May – Pike season is on!
Anders Krus and 15,2kg pike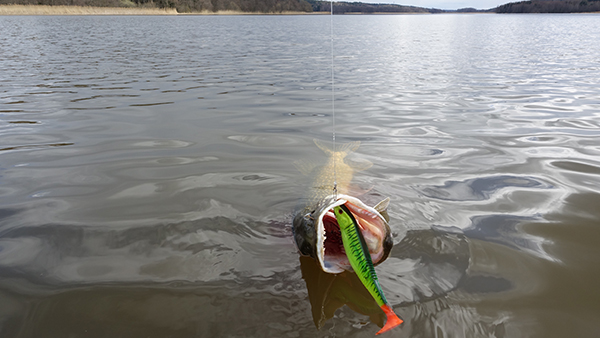 Prorex Classic Shad delivers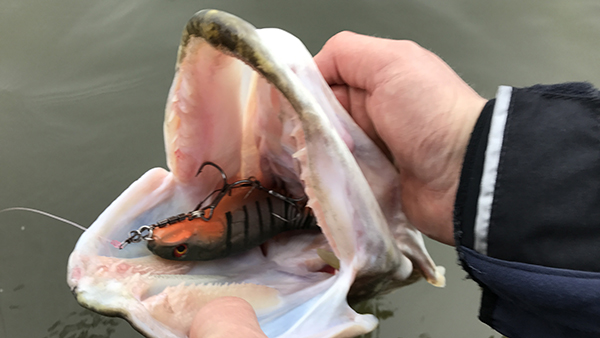 Prorex Classic Shad in trouble

May is the definitely one of the best months for pike fishing. Pikes are spawning during spring and we can share fishing at spring to two periods; pre-spawning and post-spawning. Pikes behave little bit different before spawning and after spawning and you need to adjust your fishing technique and lures for current situation.

Frankly speaking, before spawning you have a great chance to catch your dream pike but during the day number of pikes is many time limited. After spawning situation goes around, you might catch good number of pikes but the huge ones are harder to catch. But please remember - it's always a pleasure to catch pike.
Pre-spawning:
Pre-spawning fishing starts immediately after ice has melt down and you can fish in open water. At some place pikes are spawning under ice cover so open water fishing starts with post-spawning fishing. At pre-spawning fishing key to catch fish is to be patient. Many time pikes are in-active and just stand still and waiting right time for spawning. You need to able to present you lure directly to right place with right speed. In the other words you need to cast your lure in front of pike nose and retrieve it as slow as you can. At pre-spawning fishing slow speed is many times better than fast speed.

Best lures for pre-spawning fishing are lures that you can use at slow retrieve and they are slow sinking. Slow sinking jerk bait like Prorex Lazy Jerk 155SS or soft version Prorex Jelly Jerk 155SS are good options. As well you can get good results with soft baits. Just remember slow retrieve. Both Prorex Duckfin Shad XL and Duckfin Shad 20cm works perfectly with slow retrieve. Swimming action starts even at slowest speed and sinking rate is ideal for pre-spawning fishing.

Best spots for pre-spawning fishing are close to spawning areas. Before spawning pikes are normally waiting right conditions for spawning bit deeper water close to spawning areas and as well they need something where to hide. 2-4m depth, weeds on the bottom and close to spawning bay sounds promising. But be patient feeding periods are short before spawning. It is normal that first 3 hours you don't catch nothing then 30 minutes of pike mayhem and then the window is close for the day.

Key to success: Be on a right spot, slow speed and be patient.

During spawning pikes are not active to hit the lures and many times it is good give them spawn in peace. If you find place where you can see pikes spawning it might be a good idea to change location.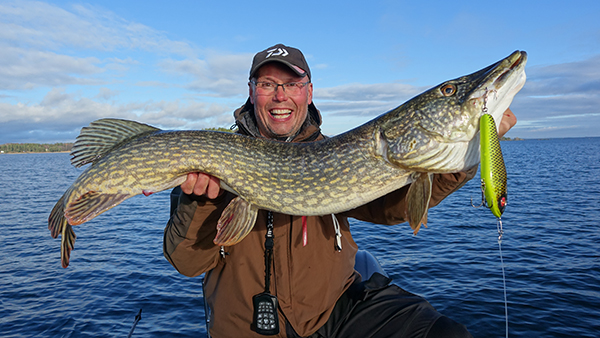 Kristian Keskitalo with long pike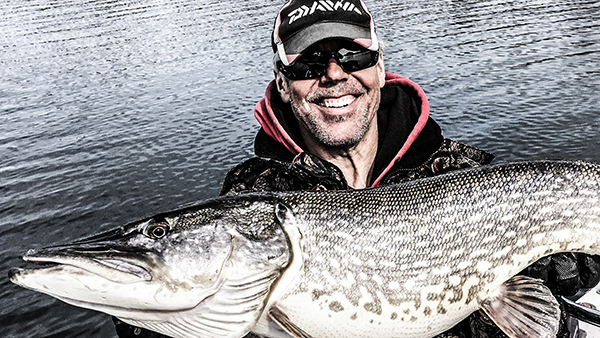 Ari Paataja with nice pike
Post-spawning:
Post-spawning fishing starts couple days or weeks after spawning. Now pikes are active and feeding. Spawning takes a lot of energy and now they want it all back. After spawning you can find pikes for multiple locations from shallow bay areas to the rocks next to deep water. They are spreading out for hunting.

On post-spawning fishing you can use more faster techniques and presentations. Pikes are hunting not standing still. Good lure options for this fishing are jerk baits with faster presentation. Lazy Jerk 155SS works perfect and you can give it more action with your rod. Prorex Hybrid Trout is ideal to cover shallow areas and Prorex Classic Shad in sizes 20cm to 30cm with its wide movement works great after spawning.

Many times, after spawning pikes are hiding and feeding middle of weeds and they are impossible to catch with regular lures with treble hooks. For this kind of situations spinner bait is the best option. With a spinner bait you can fish middle of weeds without tangling and spinners makes lot of noise to make pikes attack.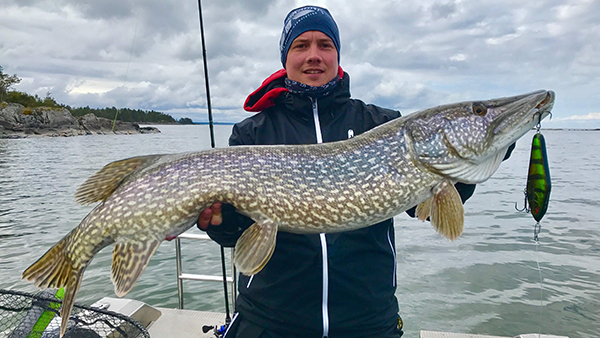 Martin Rees and 10kg pike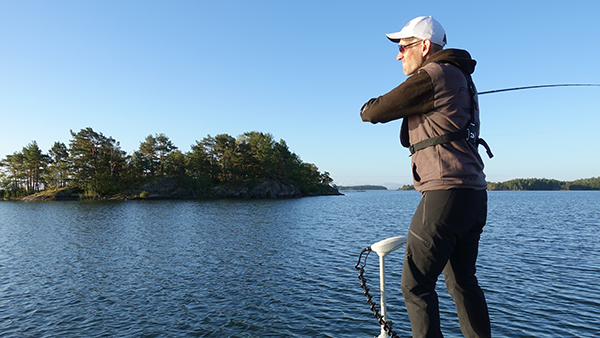 Anders Krus and post-spawn pike fishing
Colours and equipment:
Selecting a right colour for pre- or post-spawning fishing is always tricky. It depends so many things like, light, weather, colour of the water etc. but just be active to test different colours, sometimes you get a great result with fire tiger and next day natural colours work the best, you never know.

For pike fishing either pre- or post-spawning you need right equipment. Pike is a strong fish so the gears needs to be strong as well. If you like baitcasting reel your optimal size is 200 or 300 and in spinning reels from 3000 to 4000. Casting weight of your rod needs to be in line with lures you are using. If you like Prorex Lazy Jerk 155SS and Prorex Duckfin Shad XL you should choose rod with casting weight up to 120g.


By Juhani Hutri, Sales Representative Scandinavia