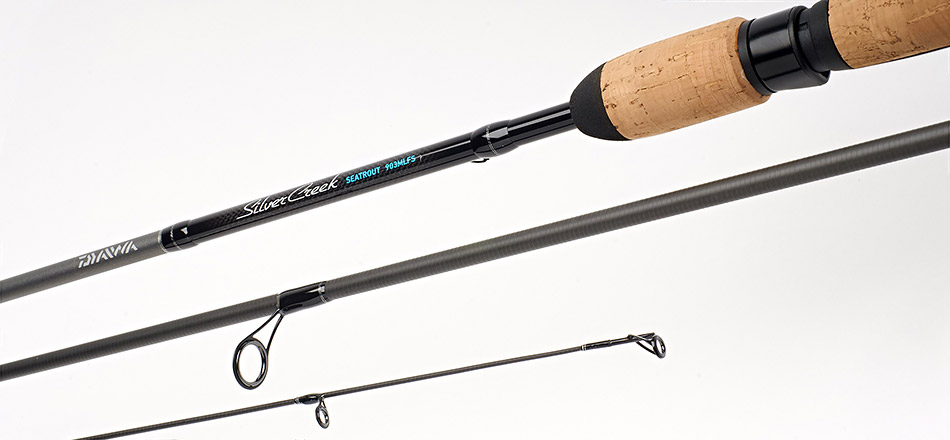 SILVERCREEK SEATROUT AND SALMON (SPINNING)
This Silvercreek range have has been created to serve across a mix fishing styles with multi section models of 3 and 4pc. Designed for sea trout and salmon.

The Sea Trout range begins at 9' for 7-28g reaching up to 12' for 12-40g.

For Salmon, the Spin models are 11', 12' and 13'.
Premium grade carbon blanks
Stainless Steel frame guide with Zirconium ceramic
Cork handle with EVA trim
Fuji reel seats
Multi section designs for travel
SILVERCREEK SEATROUT SPINNING
MODEL
LENGTH
WEIGHT
CASTING WGT
SECTIONS
RRP
SCS903MLFS-AS
9'/274cm
158g
7-28g
3pc

109.50 €

1,095.00 kr

1,095.00 kr

849.00 kr

SCS1003MLFS-AS
10'/305cm
178g
7-28g
3pc

119.50 €

1,195.00 kr

1,195.00 kr

899.00 kr

SCS904MLFS-AS
9'/274cm
166g
5-25g
4pc

109.50 €

1,095.00 kr

1,095.00 kr

849.00 kr

SCS1004MLFS-AS
10'/305cm
176g
7-30g
4pc

119.50 €

1,195.00 kr

1,195.00 kr

899.00 kr

SCS1104MLFS-AS
11'/335cm
210g
10-35g
4pc

129.50 €

1,295.00 kr

1,295.00 kr

999.00 kr

SCS1204MLFS-AS
12'/365cm
243g
12-40g
4pc

139.50 €

1,395.00 kr

1,395.00 kr

1,049.00 kr
SILVERCREEK SALMON SPINNING
MODEL
LENGTH
WEIGHT
CASTING WGT
SECTIONS
RRP
SCS1104MHFS-AS
11'/335cm
282g
20-60g
4pc

129.50 €

1,295.00 kr

1,295.00 kr

999.00 kr

SCS1204MHFS-AS
12'/365cm
302g
25-70g
4pc

139.50 €

1,395.00 kr

1,395.00 kr

1,049.00 kr

SCS1304HFS-AS
13'/395cm
348g
120g
4pc

149.50 €

1,495.00 kr

1,495.00 kr

1,149.00 kr