SALTIGA STAR DRAG (10 size / 15 size)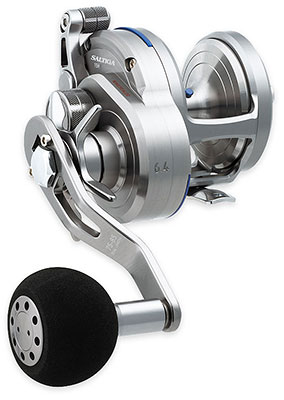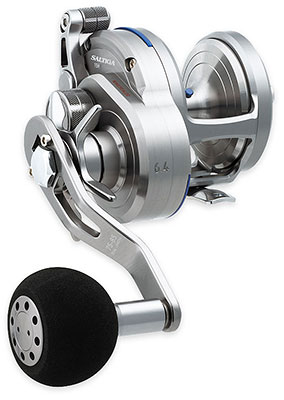 SALTIGA STAR DRAG (10 size / 15 size)
Saltiga conventional series now with "Magsealed ball bearing". Magsealed ball bearing is Daiwa's latest addition to it's Magsealed line of reels. Magsealed ball bearing allows the reels to be even more resistant to the corrosive saltwater environment. Main bearing is sealed with our Mag oil to keep the elements out. Saltiga also has a precision machined one piece aluminum frame for more cranking power. Combine this compact body design for added strength and durability.
FEATURES:
1 Magsealed ball bearing (MBB)

Precision Machined Housing

One Piece Frame

9 Bearing System (1 MBB + 7 CRBB + 1RB)

6.4 Gear Ratio

Spool Lock Mechanism protects gears when engaged

Non–Spool Click

EVA custom handle knob

Ultimate Tournament carbon drag (UTD) with 15.4 lbs drag max

Machined aluminum frame and right side plate are one solid piece for unmatched strength

Machined aluminum spool
MAGSEALED BALL BEARING

Saltiga Star Drag models feature the Magsealed ball bearing. Magnetic oil bridges the gap between the inner and outer bearing races—keeping the elements out.

CORROSION RESISTANT BALL BEARINGS

Last up to 12 times longer than standard stainless steel ball bearings.
CONVENTIONAL REELS
Model
Number
Bearings
Gear Ratio
Line Per
Handle Turn
Wt.
(oz.)
Line Capacity
(Lb. Test / Yards)
Drag
Max
SASD10
1MBB, 7CRBB, 1RB
5.1:1
31.5"
14.3
MONO: 12/220, 14/180
J-BRAID: 30/330, 40/220
17.6
SASD15
1MBB, 7CRBB, 1RB
5.1:1
31.5"
14.3
MONO: 12/350, 14/290
J-BRAID: 30/550, 40/330
17.6
SASD10H
1MBB, 7CRBB, 1RB
6.4:1
39.5"
14.3
MONO: 12/220, 14/180
J-BRAID: 30/330, 40/220
17.6
SASD10HL
1MBB, 7CRBB, 1RB
6.4:1
31.5"
14.3
MONO: 12/220, 14/180
J-BRAID: 30/330, 40/220
17.6
SASD15H
1MBB, 7CRBB, 1RB
6.4:1
39.5"
14.3
MONO: 12/350, 14/290
J-BRAID: 30/550, 40/330
17.6
SASD15HL
1MBB, 7CRBB, 1RB
6.4:1
31.5"
14.3
MONO: 12/350, 14/290
J-BRAID: 30/550, 40/330
17.6
CRBB = Super Corrosion Resistant Ball Bearing, BB = Stainless Steel Ball Bearing, RB = Roller Bearing