Light Tough
To use a reel that is both LIGHT and TOUGH, has been the dream since anglers first laid their hands on a reel.
In 2018, DAIWA introduced the new concept of creating a reel, that combines the contrasting elements of LIGHT and TOUGH.
The traditional approach when trying to achieve lightness is that it comes at the sacrifice of strength or durability. Even the slightness reduction in weight can have a compromising effect on strength, while the pursuit of durability brings with it its own limitations and implications. Reducing weight without foregoing strength and durability was a complex, expensive task, exclusive to the realm of hyper performance machines such as formula one race cars.
The landscape changed with the introduction of Daiwa's LT Concept. A concept that allowed Light and Tough to coexist, and Daiwa's dream to become a reality of bringing both elements to reel design.
MISSION 4:
FOUR MISSIONS - ONE GOAL
To make the impossible possible.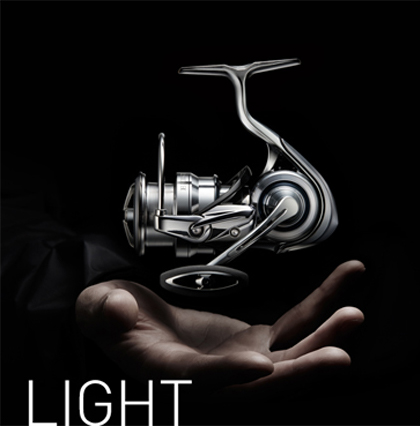 The challenge of extreme weight reduction
As a reel becomes lighter, the connection between angler and reel increases to the point where they become one.
An angler can freely move, unencumbered by excess weight, allowing them to fish and perform at their best. The 18EXIST is an amalgamation of multiple subtle technologies and design advancements that allow the weight of the reel to be reduced to its bare minimum, and begins with the MONOCOQUE body.
MONOCOQUE BODY technology enables both compactness and robustness to be achieved. Lean and mean and devoid of unrequired bulk, MONOCOQUE creates an ultra light, ultra strong body without peer.
A redesigned uber thin spool further enhances weight reduction in the feather light 18EXIST, and allows the effortless, functional synergy, between angler and reel to be achieved.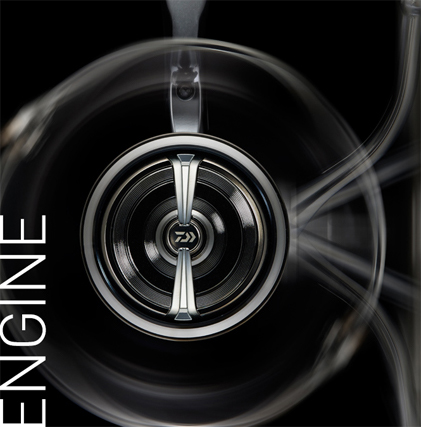 The challenge of ultimate quietness
For an angler, silence is golden! Being able to eliminate unwanted sounds, so you can key in on angling cues and sounds, is vital. To help achieve this oneness with your angling environment Daiwa strived to make the 18Exist whisper quiet by significantly reducing rotational noise.
This has been achieved by employing newly developed, TOUGH DIGIGEAR technology. Ultraprecise machining achieves ideal gear teeth surfaces that significantly reduce gear meshing noise during winding rotation. The reel also features a collection of other technologies and designs that reduce noise, including a Zaion Air Rotor that reduces inertia for light and smooth winding, and the sturdy MONOCOQUE BODY that almost completely eliminates gear shifts and rattles.
The 18EXIST has entered unchartered territory when it comes to quietness.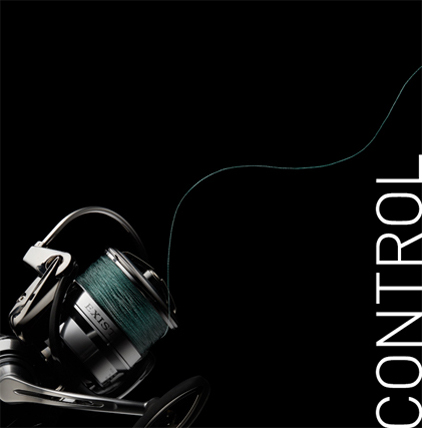 The challenge of a longer cast
As anglers, we know the longer a lure is in the water, the greater the chances of it crossing paths with a fish. Making a longer cast is one of the most effective ways of increasing your lure's time in the water. Spool design is one of the biggest factors that influences casting distance, and now, 18EXIST breaks new ground with its Long Cast (LC) ABS spool.
Casts are easier, longer and more trouble free, thanks to the new innovative spool design. Line comes off the reel easier and faster, allowing for longer, more accurate casts and improving angling performance.
Distance is the name of the game with the 18EXIST.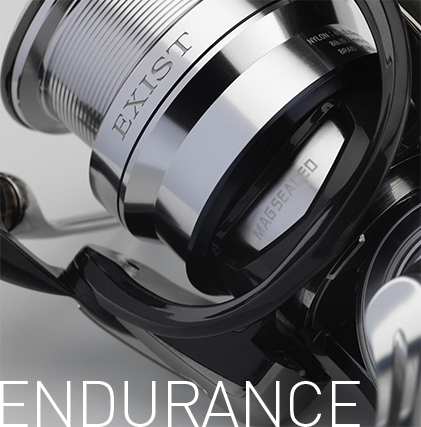 The challenge of ultimate durability
Creating a reel that performs at peak performance over a long period, is the quintessential definition of ultimate durability. Reels of the past have fallen short in this area, and have waned in performance over time, when subjected to prolonged use and environmental conditions.
The search for the holy grail in protecting and maintaining performance was found with MAGSEALED. The 18EXIST is equipped with MAGSEALED technology, to protect its line roller, main shaft, and drive gear shaft, and now combined with the use of the seamless MONOCOQUE BODY technology, greatly reduces the penetration of water and dust into the reel to minimise corrosion and promote longer life and better performance.
By thoroughly and steadily implementing technologies one by one, EXIST has achieved ultimate durability.

TECHNOLOGY:
DAIWA TECHNOLOGY
3 Innovations
The three pillars of perfection